Project Management
Timmermans Consulting has delivered a number of large scale / international projects over the last years in different environments.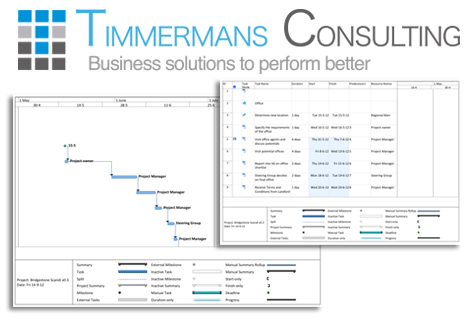 Due to the approach taken by us, we are able to have a consistent and fully controlled project plan (using modern software tools) which is:
developed by us based on our experience
agreed with all stakeholders so a broad acceptance is created
signed off by the project owner(s)
continuously managed so if any delay or critical path issue would occur, it can be timely managed
reported on a weekly/monthly basis with key performance indicators and critical path progress / issues
Projects ran over the last years were a.o.:
European Project Manager SOX compliancy for Technicolor HES (Home entertainment Services) and TES (Theatrical Entertainment Services) with facilities located in UK (London, Cwmbran, Rugby), Luxembourg, The Netherlands (Helmond, Venray), Spain (Madrid), Italy (Rome, Milan), France (Paris), Poland( Warsaw). For this project we have managed the overall planning, budgets and quality of all SOX related activities and sub-projects across Europe with a SOX compliancy result as planned. On topof this project we have ran a training program and subsequent activities to embed the whole program in the normal day-today operational activities.
A centralization project for the Sales & marketing organisations of Bridgestone Tyres Northern Europe (headoffice in Warwick and S&M locations in UK, Ireland, Sweden, Denmark & Finland). The project was to look at different opportunities and scenario's to maximise the organisation's efficiency, the customer orientation / satisfaction and by that the return on assets for the company. Timmermans Consulting has investigated the current situation, interviewed all key employees and developed a business model with multiple scenario's. By taking this structural approach, we were able to take into account all possible parameters (in this case appprox. 100 different) to evaluate all the possible and desirable opportunities and their impact on the investments, restructuring costs and operational results.
For Cinram Europe we have managed an integral risk management project for their European activities in UK (TEN – The Entertainment Network), France and Germany (former Warner facility in Alsdorf). In line with the SOX requirements, Cinram (with headoffice in Toronto, Canada) wanted to improve their internal control structure with a similar approach. Timmermans Consulting has developed templates to document all their processes, tested the key processes and assisted the organisation with the remediation work. Next to the risk and control work, we also managed the project on planning, budget and quality with periodic reporting to management and overall project planning.